Looking for the best 100K team in FIFA 20? This is actually the team that I use personally, and even if it's a bit unorthodox it plays better than most teams that are worth over 1 million coins. When used properly with the right tactics, this team is lethal. 
The best 100k team in fifa 20!
Here you can see the best 100k team in FIFA 20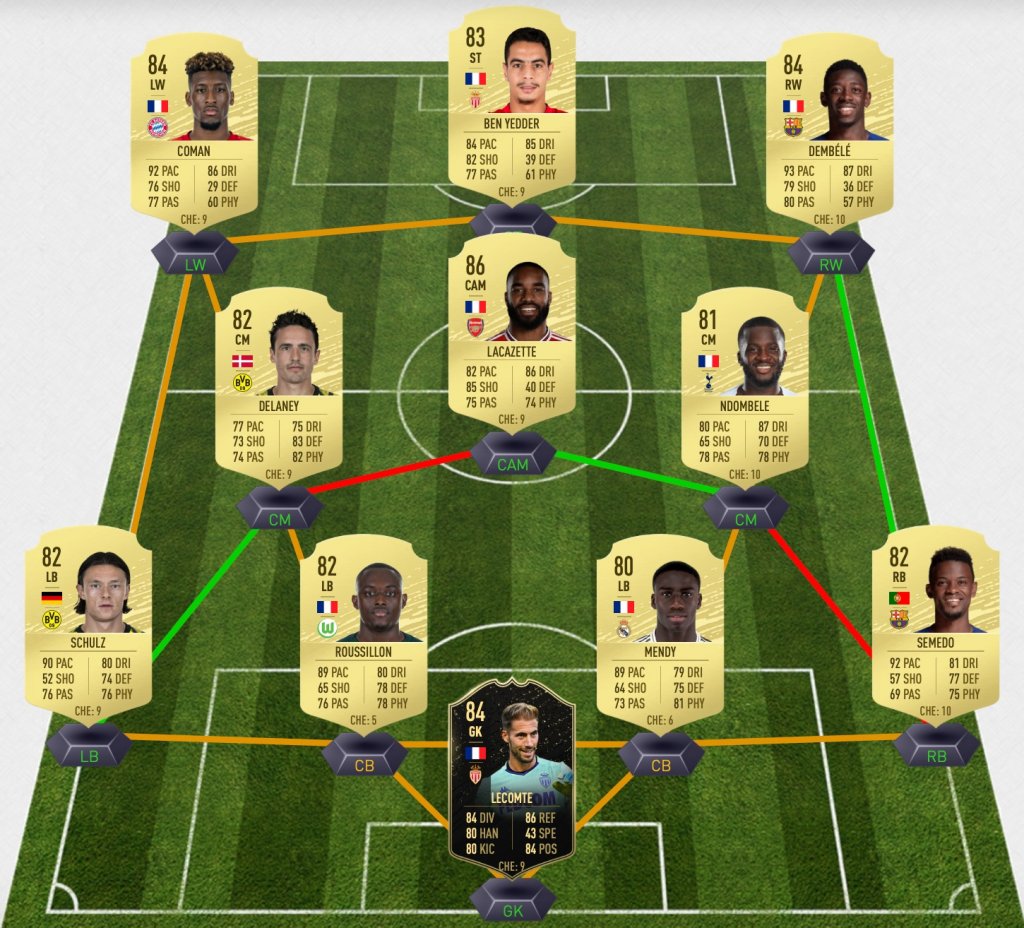 Now I know some players are off chem, and it looks weird with 2 LBs at CB, but trust me they play better than 99% of the centerbacks I've used. Their pace and recovery make them impossible to get in behind, and they both have decent physical. I'd recommend playing a 4-2-3-1 narrow in game with Lacazette at striker, Ben Yedder at CAM, and the rest of the players in their respective positions. A 4-4-2 would also work with Ben Yedder and Lacazette up top, but it's all personal preference.
Wissam Ben Yedder: No matter which version you have of him, he's still one of the best players in the game. Put a sniper on him to maximize his finishing (99), agility (99), dribbling (95), and composure (89). At CAM pace isn't the most important thing, and 84 is acceptable. 
Kingsley Coman: He's a small upgrade over Martial, yet in game i found him miles better. With a deadeye he's a very well rounded player with 92 pace, 87 shooting, 84 passing, and 87 dribbling. With 98 positioning, 91 finishing, and 90 shot power he's great at cutting in on his right foot and scoring. 
Ousmane Dembele: Arguably the best gold card in the game, you can find him in teams worth millions of coins. WIth 5 star 5 star and already boasting 93 speed, a deadeye will boost his finishing (93), shot power (93), and short passing (92). 
Alexandre Lacazette: In typical "Slap a hunter on him and he'll be a decent player," with a hunter Lacazette goes up to 92 pace with 92 positioning, 92 finishing, and 96 shot power. He's a bit inconsistent, but he always seemed to pop up in the most important moments. 
Thomas Delaney: Personally my favorite player on FIFA and my club captain, Thomas Delaney is one of the most OP players in the game at CDM. I use a shadow on him to boost his pace (89) and defending (91), but even without boosts his passing and dribbling are amazing. He's even scored a couple winners for me in Weekend League, despite 73 shooting. 
Moussa Sissoko: One of the most OP defensive mids on a budget, his balance of pace, defending, and strength make him tough for anyone to get by. With him and Delaney in the midfield, it's virtually impossible. If you can find him with a shadow, paying a few K more is worth it as it boosts his pace to 92, allowing him to cover the entire midfield. 
Nico Schulz: Pace is king at fullback, and with 90 pace Nico Schulz is perfect at LB. An anchor boosts his pace to 95, his defending to 83, and his defending to 81. His left foot is perfect for passes down the wing, and he's even better in game than his stats show. 
Jerome Roussillon: Yes, he's a LB. Yes, he's playing CB, but hear me out. With a shadow and on 7 chemistry, Roussillon's pace jumps to 96 and he has 83 defending with 85 standing tackle and 88 sliding tackle. That's better than almost all CBs,and as a LB he has better passing (76) and dribbling (80) to play at the back. 
Ferland Mendy: A player that many call the most broken on FIFA, he's a bit wasted at LB so I have him at CB, and he is genuinely amazing. He's saved me more times than I can count, and is always in the right place. WIth a shadow on 7 chem he goes up to 96 pace as well, making him and Roussillon impossible to get past. 
Nelson Semedo: The best RB in the game, Semedo has 92 pace base, and with a sentinel gets 88 defending with 83 physical. With 96 standing tackle and 95 sliding tackle, he wins almost every ball. Anybody who's used him would be able to attest how good he is, and when put next to Mendy they shut down that side. 
Benjamin Lecomte: Again, goalkeeper is all a personal choice so go with whoever you want, but I'll stick by IF Lecomte as he has been brilliant in goal for me. A wall is absolutely essential, as it takes him from above average to superb in between the sticks. I tried WR Areola, and IF Lecomte was miles better. 


Overall this is a very solid team, and if you're in Division 5 or below it should be enough to consistently win you games. Even in FUT Champs, if used correctly this team could get you a Gold 3 finish. I hope this has helped you out, and I look forward to hearing how you do, both with the team and with your now available coins on the market!