FIFA 20 is broken, with gold players playing just as well as cards 10 times their value. Luckily we have a solution: a series to show you the best meta cards at any budget. Today you'll see the best 50k team in FIFA 20, so you can play just as well with a cheap team while using all of your coins to trade on the market. Introducing: Squad Building on a Budget. First up, here's a team you can get below 50K on any console.
The best 50k team in fifa 20!
Here you can see the best 50k team in FIFA 20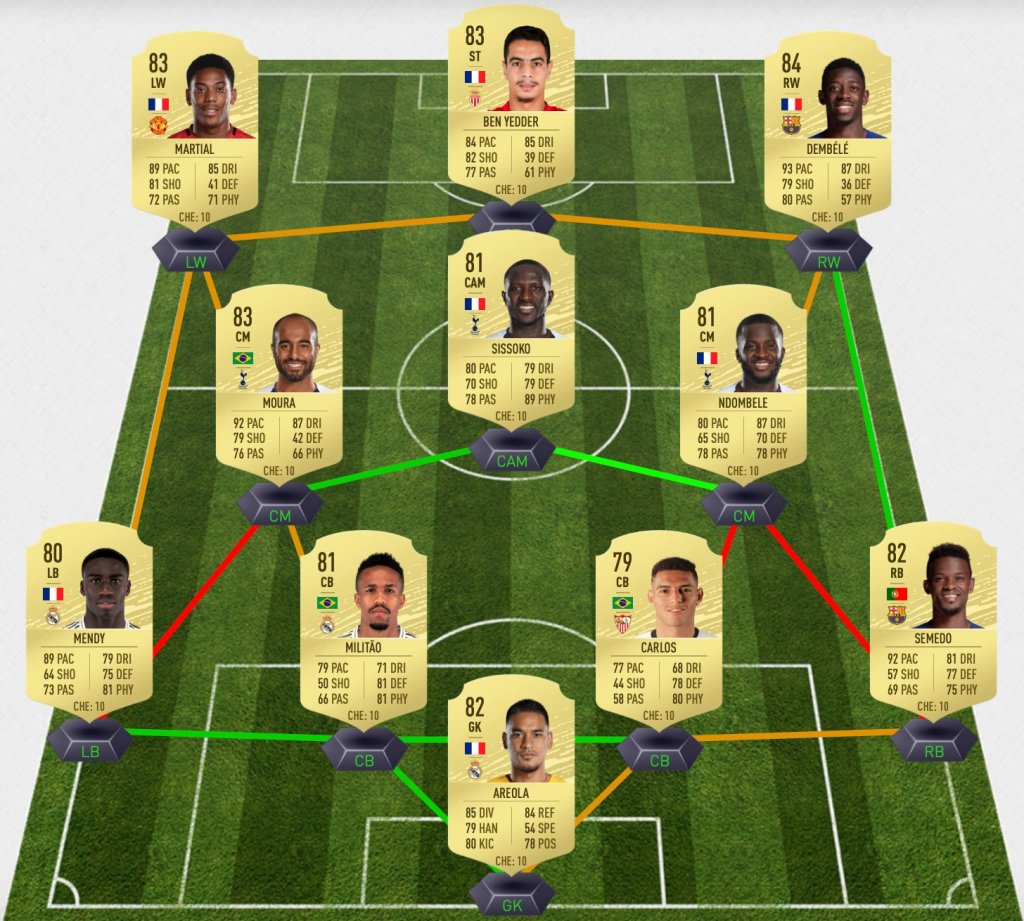 PS4: 40,250 Xbox: 38,800 PC: 46,700 
I'd recommend playing a 4-2-3-1 narrow in game with Lucas Moura at striker, Ben Yedder at CAM, and the rest of the players in their respective positions. A 4-4-2 would also work with Ben Yedder and Lucas Moura up top, but it's all personal preference. 
Wissam Ben Yedder: No matter which version you have of him, he's still one of the best players in the game. Put a sniper on him to maximize his finishing (99), agility (99), dribbling (95), and composure (89). At CAM pace isn't the most important thing, and 84 is acceptable. 
Anthony Martial: He's the best cheap LW you can get, and has a balance of pace, shooting, and dribbling. An engine boosts his pace to 94, and boosts his dribbling to 97 and makes his pace manageable. His shooting is fine as is. 
Ousmane Dembele: Arguably the best gold card in the game, you can find him in teams worth millions of coins. WIth 5 star 5 star and already boasting 93 speed, a deadeye will boost his finishing (93), shot power (93), and short passing (92). 
Lucas Moura: Is one of the best cheap strikers on the game for a base gold team, and has a nice balance of pace, shooting, and dribbling. A deadeye will greatly help to boost his shot power (89), and maxes his positioning (97) and finishing (97). 
Moussa Sissoko: One of the most OP defensive mids on a budget, his balance of pace, defending, and strength make him tough for anyone to get by. If you can find him with a shadow, paying a few K more is worth it as it boosts his pace to 92, allowing him to cover the entire midfield. 
Tanguy Ndombele: A hyper-link to Sissoko, Ndombele is a very good ball playing center midfielder to go with his French compatriot. A shadow would work for a more defensive option, but he becomes great with an engine, boosting his pace (85), passing (83), and dribbling (94). 
Mendy: The best LB in the game, base Mendy can be found in teams of any budget. With a shadow he's virtually impossible to get by due to his 98 pace, but with an anchor he becomes the best defensive player in the game with 94 pace, 88 standing tackle, and 83 strength. 
Eder Militao: 79 pace for a centre back is very solid, and Militao has a perfect balance of pace, defending, and power. A shadow will boost his pace to 91, and his defending to 89. An anchor gives up a little pace for physicality, but 84 pace with 90 defending is very respectable. 
Diego Carlos: With 77 pace Carlos is a hidden gem, and a shadow even boosts him up to 90 pace with 86 defending as well. He comes with 86 strength, and is a great second option alongside Eder Militao for the Brazilian La Liga strong link. 
Nelson Semedo: The best RB in the game, Semedo has 92 pace base, and with a sentinel gets 88 defending with 83 physical. With 96 standing tackle and 95 sliding tackle, he wins almost every ball. Anybody who's used him would be able to attest how good he is. 
Alphonse Areola: Any La Liga goalkeeper works here, but I've heard good things about Areola and it's really all up to personal preference. I'd recommend a wall chem style, as it improves their shot stopping ability. 
Overall this is a very solid team, and if you're in Division 5 or below it should be enough to consistently win you games. Even in FUT Champs, if used correctly this team could get you a Gold 3 finish. I hope this has helped you out, and I look forward to hearing how you do, both with the team and with your now available coins on the market!