Team of the Season is one of the best times in FIFA, and amazing cards come out like 99 Virgil van Dijk, Kevin De Bruyne, or Lionel Messi. Of course, 99% of us are never going to get one of those cards, so here are 11 underrated TOTSSF Cards that are still usable, whether that be in your team or as a supersub.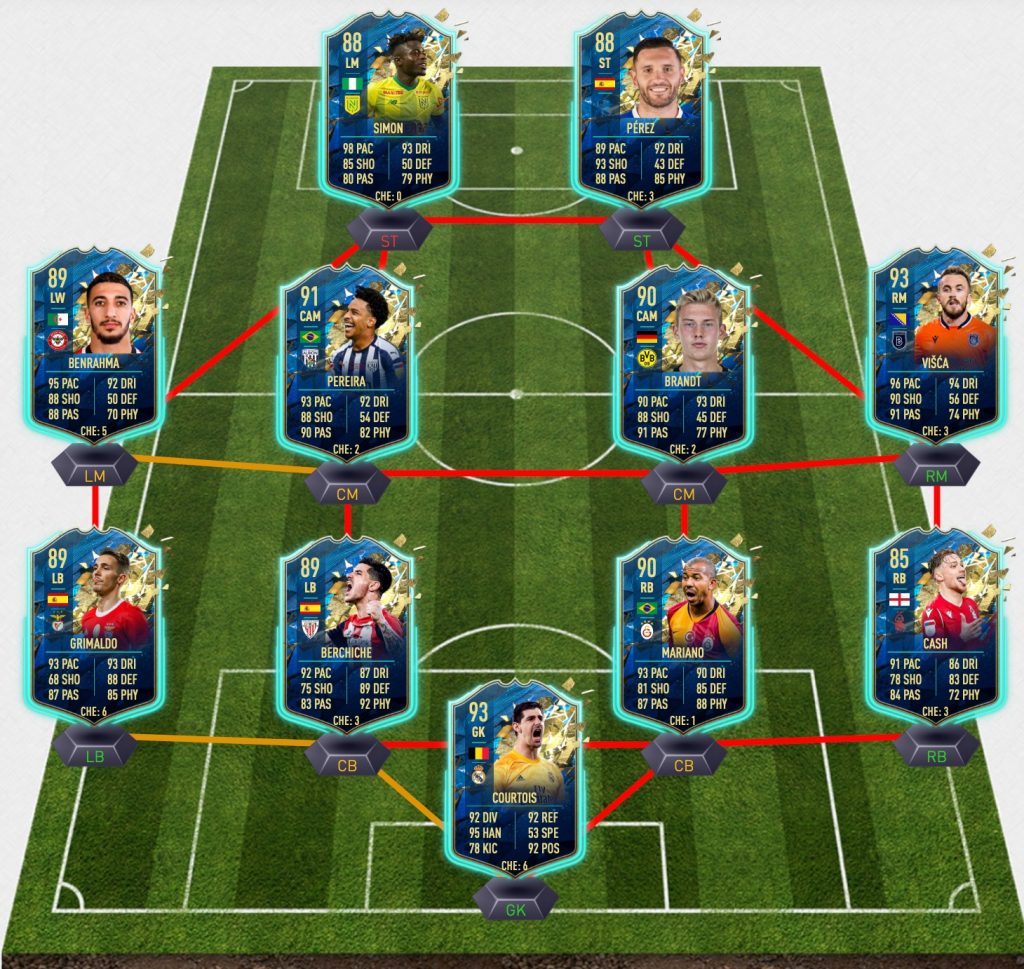 Moses Simon:  With 4 star skills, 5 star weak foot, and 98 pace, Simon is the perfect supersub in this year's meta. If you can fit him into your starting XI, use a deadeye to max his shooting and his passing. He's lightning fast in game, and was a game changer for me during FUT Champs this weekend. 
Lucas Perez: He might get a bad rap as being the La Liga player nobody wants in their red picks, but for the price he is actually a surprisingly good striker. 4 star 4 star, with 91 finishing and 97 shot power, he would be perfect with an engine. He's not endgame by any means, but if you need a cheap option he's the guy. 
Said Benrahma: If you've seen him in real life you'd understand he's been robbed for 5 star skills, but even so he is a great super sub with his 95 pace. He can play on the left or on the right, and for under 50K he is worth a shot. He's slightly bulkier and slower than Simon, but if you want a player who's more physical he's the better player in that regard. 
Matheus Pereira: His 3 star weak foot is a bit of a weak spot, but his stats definitely make up for it. For 100K you get 93 pace, 90 passing, and 92 dribbling. He's basically a b-tech Kaka for a fraction of the price, and can work as either an attacking option or a box to box midfielder.  
Julian Brandt: I personally haven't used him but everyone I've talked to has said that he's ridiculous, and the couple times that I've played against him he's seen really good. With Bundesliga TOTS out, there are plenty of ways to get him into your team. I'd recommend him in a central role, he doesn't have the build for out wide. 
Edin Visca: My personal favorite on this list, he's the new Ryan Kent on steroids. He had 13 goals and 18 assists for me this weekend in FUT Champs, and Hashtag Harry himself even called him the best coin for coin player in the game. His 4 star weak foot feels like 5, and you can play him anywhere. I personally started him wide then moved him centrally in the 60th minute to take advantage of his turn of pace once defenders were tired.
Alejandro Grimaldo: If you ever get a red card in defense, Grimaldo is the perfect supersub to bring on. With 93 pace, 88 defending, and 85 physical, he can play anywhere in defense. Spanish links mean you can play him in a Liga NOS or La Liga hybrid, and don't be afraid to play him at CB. 
Yuri Berchiche: He might be overlooked because of Reguilon, but Berchiche actually has a criminally underrated card. I'd actually recommend playing him at centre back (which I did last weekend) to take advantage of his 92 physical, and you can even strong link him to Reguilon if you want both in your team (8 chem isn't an issue). 
Mariano: Another fullback that I'd recommend at centre-half, Mariano put in a shift for me during FUT Champs this weekend. His combination of pace, defending, and physical make him absolutely lethal against the counter, and even alongside Diego Carlos (who was close to 10 times his cost) he outshone him as my defensive MVP. 
Matty Cash: If you have an English side and the likes of TAA and AWB are out of your budget, don't sleep on Matty Cash. Hashtag Harry even said he'd include him in his competition squad, that's how good he is. Links are a bit of an issue, but he is amazing on both sides of the ball.
Thibaut Courtois: There's a lot of cheap TOTS goalkeepers and you can choose whoever fits your team, but Courtois is my personal favorite. He's been tremendous for me through 3 FUT Champs weekends, and has played better than the likes of Van Der Sar and Ter Stegen Sidenote: Stay away from TOTS Alisson. He. Is. Awful.
We hope these underrated TOTSSF's helped you and you found some new players that you can add to your team!
If you wanna have more coins to buy players like 99 Van Dijk. Check out this trading method!