Friends,
This Trading method is amazing to make a good amount of coins during the webapp and I'll show you a good example as well.
Let's dive right into it!
Go to futbin, go to the advanced SBC Solutions, and pick players who are often in those solutions.
Most of the time this will be players with a great SBC Nation e.g. Argentina, Brazil, England, France, Germany… in small leagues like Liga MX…
I saw pretty often Podolski in those solutions and recognized that he fluctuates a lot in price.

When I checked his price he was 3.3k worth, so I just tried to get him cheap via bidding and it worked perfectly. I got him easily for 800 Coins – 1.9k. Which is amazing considering every coin is valuable in webapp!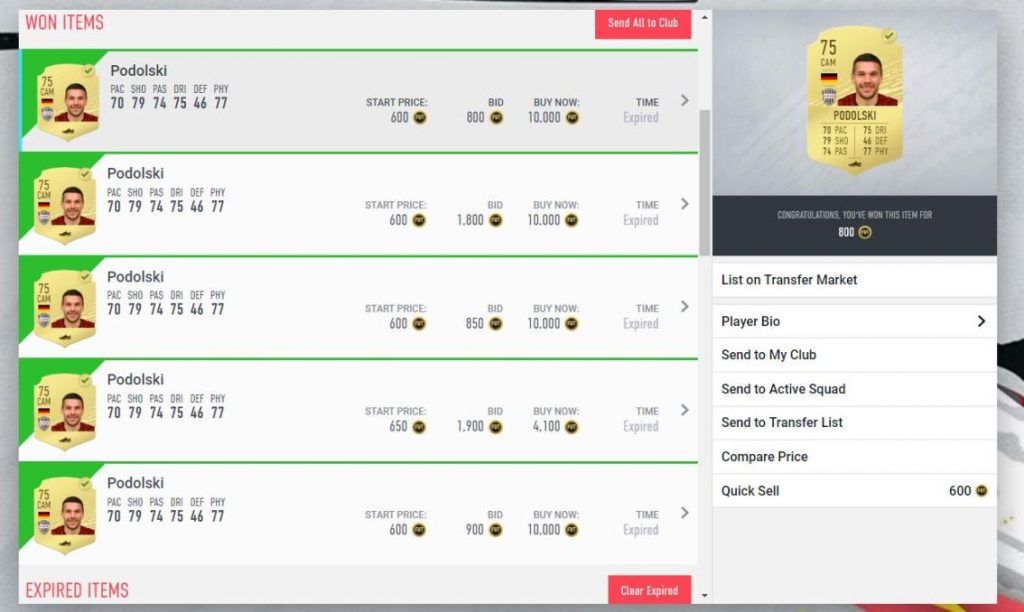 Why does it work that good?
His price is fluctuating a lot, but why is it fluctuating a lot? He's in a lot of SBC Solutions that means when futbin updates his price and futbin's showing a price of 1.3k, a lot of people will include him in their SBC Solution, which means he's at the top of the Solutions from this SBC. A lot of people just buying players from these Solutions and that means that the demand after Podolski is higher as the Supply, which means that Podolski rises in price!
But Futbin doesn't upgrade the price of players like Podolski hourly, so the people think he's worth 1.3k while he's sitting at 3.3k and especially if you bought already players from these solutions, most of the people will just buy him for this to high price.
So only a few persons know that he's really worth 3.3k, futbin shows he's worth a lot less, and the people who want to make SBCs just want to do them quickly instead of bidding on this player to MAYBE get him cheaper.
That at all means that there is often less competition bidding on these cards and you'll be able to get, in this case, Podolski, pretty cheap.
And this works with nearly every card which is often in TOP SBC Solutions in futbin!



This method is extremely valuable. I saw no one giving methods out like these so far!